Tags
Arlene, Consuming Passion, Dalia Craig, e-book, erotic, F/F, FemErotica, food fetish, Jay, lesbian, Lesbian erotica, lgbt, loveyoudivine alterotica, lyd, Provincetown
Consuming Passion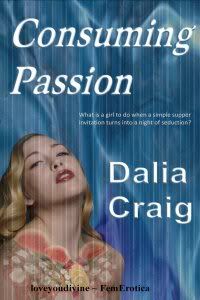 What is a girl to do when a simple supper invitation turns into a night of seduction?  
When sexy blonde Arlene issues an invitation to supper Jay has no expectations other than enjoying a pleasant evening with her new friend. How will Jay react when she discovers Arlene plans to put her on the menu?
Excerpt:
I turned away from the table before I disgraced myself by prematurely picking at the feast and gave my attention to her artwork. Like the rest of the room, her pictures followed a theme; mainly abstracts a mixture of vibrant hues and pastel shades all swirled together into amazing fractals yet still retaining a recognizable image. In addition to the abstracts, something else caught my eye—the striking pen and ink study of a nude stood out by being completely different from all the other pictures.
Was it of Arlene?
Impossible to tell, with the head turned away although the artist had drawn every other feature of the seated figure with great attention to detail. I moistened my dry lips and let my eyes trace the erotic pose to the focal point between the model's thighs.
Did the flowing tunic Arlene wore hide this delectable frame?
I couldn't wait to find out. My body thrummed with the euphoric anticipation of sampling those generous tits or burying my face in that exquisitely inviting pussy. Read more