Tags
all for love, allromanceebooks, anthology, Dalia Craig, e-book, edited by Beth Wylde and Lara Zielinsky, Erotic Romance, F/F, fictionwise, gay marriage, glbt, lesbian romance, lesbian weddings, loveyoudivine, loveyoudivine alterotica, lyd, Marriage Equality, prop 8, sapphic planet, to love and to cherish
I'm happy to welcome you to my blog today.
To Love & To Cherish, the charity anthology in aid of Marriage Equality USA by 14 authors from SapphicPlanet published by loveyoudivine Alterotica, completes its publication journey this weekend with the release today of ebook #3 Lives and Wives containing the final 5 stories from Adriana Kraft, Beth Wylde, Dalia Craig, Jessie Taylor Quinn and Meg Leigh.
The print volume, containing all 14 stories, releases on Sunday February 14th.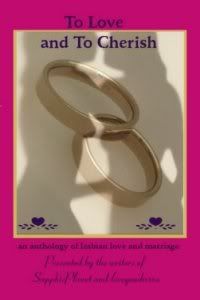 "To Love and To Cherish" is available at www.loveyoudivine.com
I believe in equality in all things, especially in love and marriage. No half measures, no blurring round the edges, marriage should be attainable and mean the same for everybody no matter what their sexual orientation or where they live. That is why I was happy to join my fellow SapphicPlanet authors and loveyoudivine Alterotica on this project in aid of Marriage Equality USA.
My story, All For Love, follows Tara and Cheri through the pain and despair of almost breaking up to a surprising resolution.
Tara knows that she and Cheri belong together, yet Cheri's increasingly volatile behavior is driving them apart. They need a miracle, or two, to save their relationship.
Cheri is tormented by insecurity and terrified she'll lose Tara for good if she dares to confide her guilty secret but time is running out for the truth game.
In a final attempt to win Cheri's hand in marriage, Tara risks all for love.
I'm delighted to share this short excerpt.
You can find All For Love both in eBook Volume 3 – The Lives and Wives, and in the print edition due for release on February 14th.  
Excerpt:
"What do you mean, you're not going?" I glanced up from the tickets in my hands and my heart sank. Cheri's implacable stance promised a confrontation I could well do without, after a long day in court. "What's changed? You were all for going to this when we put our names into the draw for tonight's special showing."
Where had my beautiful, vivacious lover gone? What had happened to change her into this surly impostor, who bore no resemblance to the angel I'd set my heart on marrying from the day she walked into my life with her bright smile and easy wit? Compassion stirred in my heart. I wanted to enfold her in my arms. Hold her tight and comfort her. To take away the hurt, if only I knew what it was, but I didn't. How could I, when she hardly spoke any more, let alone confided her darkest secrets.
"So? Lighten up, Tara."
"So…" I barely held onto my temper. "Is that all you have to say? You begged me to try for these tickets because, according to you, Lee Delahaye is your inspiration, and this event not only supports your favorite charity but is also a once in a lifetime opportunity to see some of her early body art, alongside all her regular artwork."
"Did I? I honestly can't remember." Cheri shrugged, avoiding my gaze as she raked paint-stained fingers through her short dark-blond hair.
Clearly bra-less, her breasts thrust against her shirt as she expelled a ragged breath. My pussy pulsed, demanding instant satisfaction as I fought an overwhelming urge to rip the fabric apart and feast upon the sweet buds below. I clenched my fists and drove my fingernails deep into my palms to stop myself from reaching for her. Doing so would only drive her further away. I'd finally given up trying to love or comfort her, since every time I got near her lately she rejected me.
"Do you know, or even care, how much these fucking tickets cost me?" I felt the sting of my accusation and immediately wished the words unsaid. A dark red stain spread across her pale cheeks as if I'd physically slapped her.
"No, I don't." For what seemed an eternity, Cheri just stared blankly at me, like she had no idea who I was then she turned away and stomped across the hall. "Take somebody else or sell them if you're that concerned about the money, but count me out." She barely broke her stride to fling the final caustic rebuff over her shoulder. A thunderous slam of the bedroom door punctuated her words.
Much as I hate to admit failure, I'd reached the point where I couldn't take any more. Cheri had just fucked up her last chance to fix things between us. Tonight's tantrum proved, if any further proof were needed, there was nothing left of our relationship but an empty shell. I brushed stinging tears of regret from my eyes. I needed to get out of this apartment, and away from Cheri, before she dragged me down with her. We both needed some breathing space. Maybe a few days apart would bring her to her senses, or at least resolve the situation one way or the other. I grabbed my cell phone and texted Ariadne, a long time friend, to beg a bed for the night then went to pack my bags.
On my way across the bedroom with an armful of lingerie, I stopped dead, diverted from my task by the sight of Cheri's naked body through the clear shower screen in the bathroom. Her pose, with head thrown back and ample breasts thrust forward, nipples standing proud from rosy-pink aureoles, was incredibly sexy. Hot juices flooded my pussy at the sight of water cascading over that gorgeous body. A body I hadn't touched in months…since she'd slammed the door on any intimacy.
Desire overtook common sense. The sight of those water droplets caressing all the places my lips and tongue remembered conjured up a raft of sensual images which in turn led, in my mind, to us enjoying one last fuck, just for old time's sake.
The thought barely left my head before my libido seized control, as it always did when I was around her naked body. I kicked off my shoes, shed my business suit, and shimmied out of my underwear in the few seconds it took to cross the bedroom, then pushed aside the screen and joined Cheri under the spray.
~*~
Thank you for visiting my blog. 
Meg Leigh is the next stop on the Sapphic Planet blog tour. Visit her here tomorrow and the Readings show on Sunday for the 2nd and 3rd stops on the virtual book tour this weekend.
"To Love and To Cherish" is available at www.loveyoudivine.com
The full book free read – http://tinyurl.com/ydmw7eg
Volume 1: On Bended Knee – http://tinyurl.com/yao9ukx
Volume 2: With This Ring – http://tinyurl.com/y9mx73v
Volume 3: Lives and Wives -http://www.loveyoudivine.com
EBooks are also available from All Romance e-Books:
Volume 1: On Bended Knee – http://tinyurl.com/y9f9jos
Volume 2: With This Ring – http://tinyurl.com/y8mhpt3
Volume 3: Lives and Wives – http://tinyurl.com/ydzq528