Tags
Dalia Craig, Desire and Deception, drug baron, e-book, Erotic Romance, F/F, FemErotica, lesbian, lesbian romance, lgbt, loveyoudivine alterotica, lyd, money laundering investigation, outdoor sex, threesome sex, undercover cops
Desire and Deception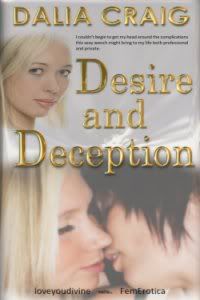 A new partner, and a new assignment, turns Kay's life upside down. Can she ignore the irresistible temptation and concentrate on her job?
Blurb:
Undercover agent, Kayce Brydon, can't believe her luck when she's assigned a new partner. Max is sexy, butch, and the exciting lover she's always dreamed of. Which is just as well since their remit is to pose as a couple to entice the wife of a drug baron into their bed.
Max Stafford can't keep her hands off Kay, in public or in private. She wants this woman in her bed for keeps but first they must complete their assignment.
Excerpt:
"Hey, Foxy Lady, you look great." She whispered my identification code as she kissed me on both cheeks then, disregarding our public location, sealed her lips to mine, cutting off my response. Jeez, this gal sure knew how to whip up a sexual tornado. Weak ass that I am I melted into the kiss, opening my mouth on her command and welcoming her inside. She tasted sweet, like a soft vanilla candy. Her tongue intertwined with mine, silky, sensuous, and so sexy. Moist heat rushed to my crotch. A compelling reminder of my long sexual hiatus. Pity we were in a public place, my throbbing cunt urged me to pursue this sudden desire to its logical conclusion. Max Stamford could fuck me any time she liked and in any way. Read more
Dalia